Garden Fire Pit Bundle Deal Save 10%

We all love keeping warm around a nice log fire and cooking over a fire is a real treat
Get this exclusive bundle deal and you'll get the very best from this Garden Fire Pit
Included in the Garden Fire Pit Bundle
Large 80cm fire bowl
Tripod with 80cm steel cooking grate
80cm steel fire pit lid
80cm fire pit mesh screen
When you order this bundle deal not only will you have a quality fire pit to enjoy but you can also be able to cook tasty food on the high-quality tripod and grate
We also include a mesh screen for added safety and a steel lid for the fire pit.
Not only does the steel lid prevent rain from getting into the fire bowl when not in use but it's also great for extinguishing the fire at the end of the night
And the mesh screen gives you that extra safety when children and pets are around, it also reduces the number of embers released into the air and stops spitting from the fire
So whether its a family BBQ, a cool summer evening or a chilly winter night this fire pit is perfect for all occasions.
A great centrepiece for any garden party
When it comes to buying a fire pit quality must be high on your agenda
You need to look no further for quality, well-built fire pits that you'll love to use
Garden Fire Pits Built To Last
The garden fire pit made from solid hand-finished steel
Thicker and heavier than most fire pits you will find on the internet.
The build quality is excellent and that's guaranteed!
When manufacturing this durable fire pit the feet and carry handles get welded to the fire bowl
Please note that steel fire pits will show surface rust, especially if they are not covered during bad weather, surface rust is to be expected on a steel fire pit, there are plenty of blogs on the internet advising of ways to keep rust to keep surface rust to a minimum and also tips on removing it.
Surface rust does not affect the quality or the use of any of our fire pits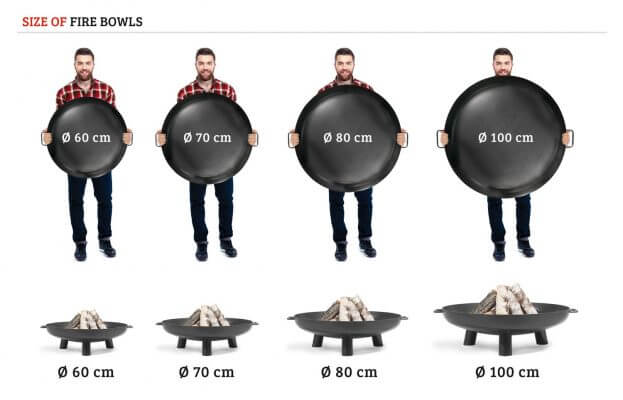 Garden Chefs guide to a better fire pit experience:
Use a good amount of kindling to get the fire going
Where possible use kiln-dried logs, (kiln-dried wood gives off far less smoke)
Split logs down with an axe for the first hour or so (thicker logs will smoke more)
Keep the temperature up by adding logs
Enjoy