Tall Fire Pit
The tall fire pit is a great product
Due to its height, it delivers heat at around waist height, which makes it a perfect centrepiece for social gatherings
So imagine your group of friends, drinks in hand gathered around the warming crackling fire, sounds perfect right!
What's more its the perfect height to toast some marshmallows!
As with all of the fire bowls in our range the tall fire pit has been selected for quality and functionality
Made from thicker steel and hand-finished for quality, this really is a great purchase
What's more the space below the fire bowl can be used to store wood
This not only looks great but it means there's plenty of timber on hand
The heat from the fire will help dry the logs and dryer logs burn better and give off less smoke, so it's win-win!
Bowl Height: 80cm
Bowl Dimensions: 80cm (Diameter)
Weight: 29kg
Garden Chefs guide to a better fire pit experience:
Use a good amount of kindling to get the fire going
Where possible use kiln-dried logs, (kiln-dried wood gives off far less smoke)
Split logs down with an axe for the first hour or so (thicker logs will smoke more)
Keep the temperature up by regularly adding logs
Enjoy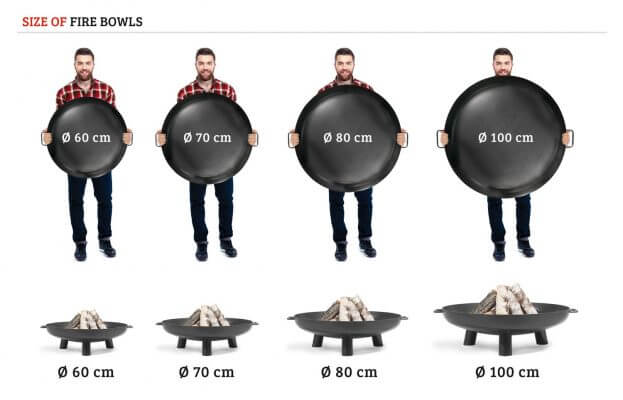 **Please note that steel fire pits will show surface rust, especially if they are not covered during bad weather, surface rust is to be expected on a steel fire pit, there are plenty of blogs on the internet advising of ways to keep surface rust to a minimum and also tips on removing it.
Surface rust will not affect the fun you have using your fire pit, it does not affect the quality and is not a manufacturing fault

Garden Chefs offers a 1-year warranty against manufacturing faults on all fire pits