Garden Fire Pit
We all love keeping warm by a nice log fire and a Garden Fire Pit.
Whether it's a lovely spring evening, a cool summers night or a chilly bonfire or new years eve night.
This fire pit is perfect for all occasions.
If you have found your way to this page you are probably keen on the feeling a fire pit gives you
Well, you need to look no further for quality fire pits you'll love to use

Our fire pits are solid handmade steel, thicker and heavier than most you will find on the internet.
At Garden Chefs we've used our fair share of fire pits and do you know what? they all rusted through and lasted 1 or 2 seasons
That is until we found these high-end fire pits which are built to last
You can choose from 60, 80 or 100cm bowls, depending on the space you have
When ordering the most popular 80cm bowl we have an excellent range of accessories to fit, like the steel fire pit lid or the mesh for extra protection
You can also add the tripod and grate which easily convert this garden fire pit into an excellent bbq and once you've done cooking simply fold away the tripod and get that fire roaring!
Garden Chefs guide to a better fire pit experience:
Use a good amount of kindling to get the fire going
Only use kiln-dried logs, (kiln-dried wood gives off far less smoke)
Split logs down with an axe for the first hour or so (thicker logs will smoke more)
Keep the temperature up by regularly adding logs
Enjoy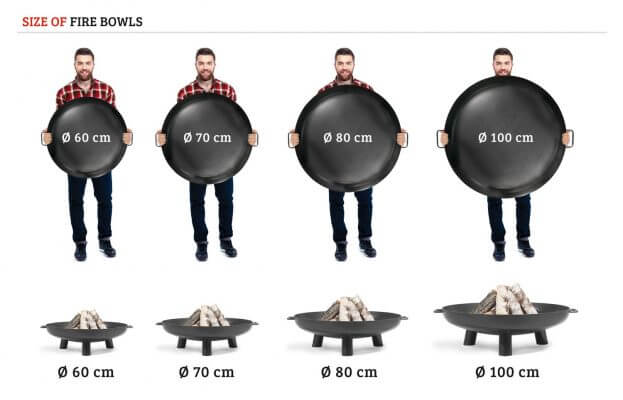 Below is a video from the manufacturer of garden fire pits which shows just how versatile this fire pit can be when paired with the accessories