Garden Fire Pit
Choose from 3 sizes!
We all love keeping warm by a nice log fire and a Garden Fire Pit.
No matter what the occasion, when you are outside there is nothing better than the warmth of a fire
So whether its a cool summer evening or a chilly winter night this fire pit is perfect for all occasions.
A great centrepiece for any garden party
So when it comes to buying a fire pit quality must be high on your agenda
You need to look no further for quality, well-built fire pits that you'll love to use
Garden Fire Pits Built To Last
The garden fire pit made from solid hand-finished steel
Thicker and heavier than most fire pits you will find on the internet.
The build quality is excellent and that's guaranteed!
These fire pits arrive at your door in one piece, you won't find yourself needing tools to assemble these fire pits
When manufacturing this durable fire pit the feet and carry handles get welded to the fire bowl
Which Size Fire Pit Should I Order
Choose from 3 sizes to suit your budget and your space
The 60cm fire bowl is big, it's a popular choice ideal for all types of garden spaces
The 80cm fire bowl is the most popular choice, it's large, make no mistake about that. It also has an array of handy accessories
The 100cm fire bowl is huge, great for those lucky enough to have lots of space and perfect for a roaring fire
When ordering the most popular 80cm bowl we have an excellent range of accessories to fit. For example the steel fire pit lid or the mesh guard for extra protection
Add the tripod and grate to any of these fire pits and convert your new garden fire pit into an excellent BBQ.
Once you've done cooking fold away the tripod and get that fire roaring!
Please note that steel fire pits will show surface rust, especially if they are not covered during bad weather, surface rust is to be expected on a steel fire pit, there are plenty of blogs on the internet advising of ways to keep rust to keep surface rust to a minimum and also tips on removing it.
Surface rust does not affect the quality or the use of any of our fire pits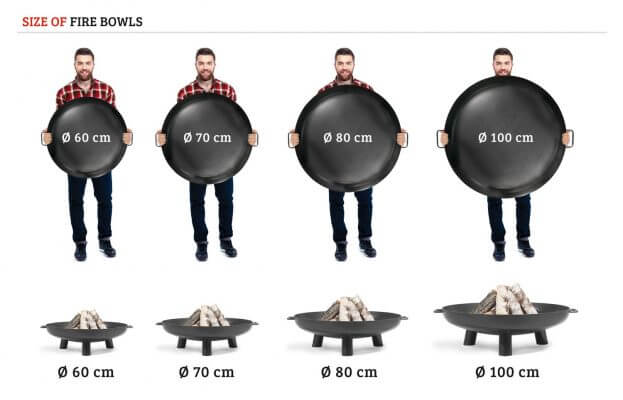 Garden Chefs guide to a better fire pit experience:
Use a good amount of kindling to get the fire going
Where possible use kiln-dried logs, (kiln-dried wood gives off far less smoke)
Split logs down with an axe for the first hour or so (thicker logs will smoke more)
Keep the temperature up by adding logs
Enjoy
Below is a video showing this fire pit on action